Monday, October 15, 2007 - ore 22:36
Al crepuscolo, quando tutto si mette a tacere...Lei, la più vanitosa, si specchia sul lago...e nei nostri occhi...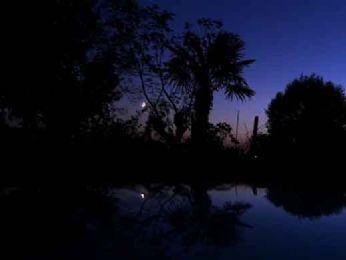 Questa l'ho scattata qualche ora fa...Peccato soltanto per il lago immaginario...
Già, perchè è solo il tetto della mia macchina...Ma la fantasia è tutto nella vita!

E se si parla di luna…Moonspell…
(Moonspell – Luna)

"Bleed no reflection
Upon the waters that you fear
Make things happen.
Accept no resignation
For some life has been cruel
You have set the mood.
Thinking about you... Luna
…
My seed of a lunacy
Was a sign made to resist
A mood set from birth
…
Luna - all above
Wound of light in the enemy skies
Make things happen for me

On the eve of self destruction
On the eve of all can be...Thinking about you"
Mi è sempre piaciuto uscire nel silenzio della notte e lentamente alzare gli occhi al cielo...soltanto per ritrovarvi quell'incredibile immensità che non smette mai di affascinare.
Tante volte ci si dimentica che quel cielo è sempre lì a vegliare su di noi, e quando lo si riscopre, si deve accettarlo in tutta la sua magnificenza schiacciante. Una bellezza terribile, che lascia senza respiro. Così...lasciar vagare la mente nei misteri dell'esistenza è spesso una cura, ma molte volte può essere più terribile della realtà di ogni giorno...
In ogni caso...non potrei farne a meno...
"Thinking about you...Luna.."